Manufacturing Website for McDowell Enterprises  
[fusion_builder_container hundred_percent="no" equal_height_columns="no" menu_anchor="" hide_on_mobile="small-visibility,medium-visibility,large-visibility" class="" id="" background_color="" background_image="" background_position="center center" background_repeat="no-repeat" fade="no" background_parallax="none" parallax_speed="0.3″ video_mp4="" video_webm="" video_ogv="" video_url="" video_aspect_ratio="16:9″ video_loop="yes" video_mute="yes" overlay_color="" video_preview_image="" border_size="" border_color="" border_style="solid" padding_top="" padding_bottom="" padding_left="" padding_right=""][fusion_builder_row][fusion_builder_column type="1_1″ layout="1_1″ background_position="left top" background_color="" border_size="" border_color="" border_style="solid" border_position="all" spacing="yes" background_image="" background_repeat="no-repeat" padding_top="" padding_right="" padding_bottom="" padding_left="" margin_top="0px" margin_bottom="0px" class="" id="" animation_type="" animation_speed="0.3″ animation_direction="left" hide_on_mobile="small-visibility,medium-visibility,large-visibility" center_content="no" last="no" min_height="" hover_type="none" link=""][fusion_text]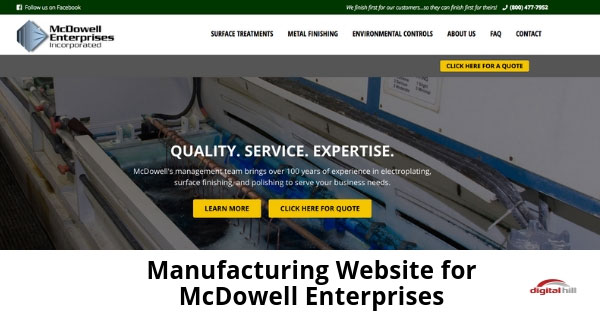 To stay competitive in today's digital landscape, businesses regardless of their industry should have an online presence. Otherwise, you'd be failing to connect with a major portion of your audience.
For B2B (business to business) industries like the manufacturing industry, the website is often the first point of contact and the first impression. Their customers are industries, and individuals within companies such as purchasing agents.
To illustrate this point, let's look at the website for McDowell Enterprises Incorporated, a leading metal finishing company in the Midwest. The company's specialization is in different electroplating methods to produce high-quality metal finishes for gold, copper, nickel, zinc, chromium, and hard chromium.
Metal Finishing Manufacturing Website
By having a modern website, McDowell stands out among its competitors that don't have one or have an outdated one. Although the company's customers are industries, it's still individual members of those industries that seek them out. The site shows a technological forward-thinking and innovative nature that builds confidence in the capabilities of the company.
Everything anyone needs to know is accessible on their homepage. There's the logo to identify the company. As well, navigation links to individual categories of their services (surface treatments and metal finishing). There are also sections dedicated to environmental controls to inform visitors about the high standards the company adheres to. For easy reference, there's a section for FAQs so that visitors won't have to search throughout the website for answers.
There's a link to a contact page as well in case visitors want to send more in-depth inquiries. Beneath it is a button for requesting a quote because it's never to early to try to convert visitors to leads. The phone number is displayed at the top of the site for visitors whose needs are more urgent. Therefore, easy access to talk to McDowell immediately.
Above the fold without scrolling, visitors have access to all the information they may need when evaluating a metal finishing company.
WordPress Website CMS
The middle of the homepage features McDowell's promise: Quality. Service. Expertise.
Under that is an option to learn more, or ask for a quote. This gives visitors two paths. The options being to continue browsing as a casual visitor or to take one step closer to becoming a customer.
Next section contains the meat of the website content: A short background on McDowell, plus a reiteration of the services they offer along with two-line descriptions.
Running along the bottom of the homepage are quick links to different sections of the website. For example a link to the company's Facebook page, and their contact details. The goal of the homepage is to present pertinent information without the clutter.
The site also has a complete WordPress CMS system enabling McDowell to update and grow the site at any point in time. Digital Hill has the expertise to give your manufacturing business a website that sells your products and services.  Contact us today to discuss your needs.
[/fusion_text][/fusion_builder_column][/fusion_builder_row][/fusion_builder_container]