New Website Checklist: Make Sure Your SEO is Done Before You Launch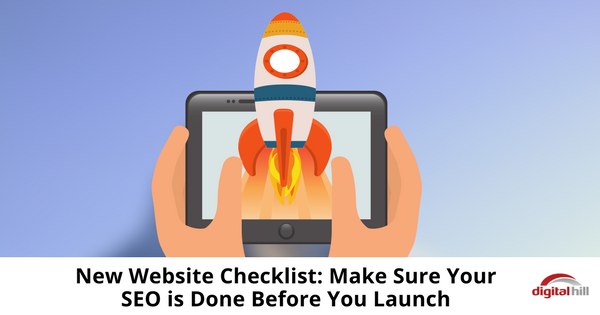 You want to make sure your new website looks good and works well. That means no dead links, no blank pages, and no overlooked bugs. But beyond the form and function, there's another element you need to look at, and that's SEO.
And in light of Google's move to prioritize mobile websites, it's all the more reason for you to assess your website's SEO-readiness against this checklist:
Domain and host

Does your host web host have a record of major downtimes? A web hosting server with a negative history will hurt your website's future reputation.

An unreliable host will affect your website's availability. It's advisable to use a unique and never-used by someone else domain name, along with a dependable web host known for excellent uptime.

Keyword list

Good copy will make your site rank well on search engines, but it'll perform much better if you incorporate the right keywords relevant to your industry or niche.

For a new website, it's wise to go after long-tail keywords because they're less competitive. In addition, these keywords will help you target specific audiences who are looking for exactly what you're offering.  A great source to look at keywords is www.buzzsumo.com.

Design Theme

Themes are not just about aesthetics. Some design themes are SEO-friendly, some aren't. To ensure your design is SEO-friendly, it should have clean code on the developer's side and a modern flow on the user's side. It should also be responsive for mobile and tablet devices, and quick to load; otherwise, your bounce rate will go up.

Most importantly overall, it should work well on mobile devices. Many people prefer to use their tablets and smartphones as their primary computing tool. Make the browsing experience on smaller screens pleasant and easy.  Google cares, so you need to as well!

SEO Tools and Plugins

SEO plugins are simple to add and use, so take advantage of their power in your site. Different SEO tools have different functions, such as LinkPatrol to track and clean up links, and Keyword Tool to find out what keywords your target audience is using to find you. If your site is WordPress add Yoast SEO because it handles both technical and content optimization.

Content

Content is still king, but only if it's presented right. Gone are the days when you can post short, fluffy content and expect your website to rank. Now, long-form content is a better option because it leads to higher conversions and better page rank. Of course, you don't have to fill every page with detailed content. Just focus on pages you want to rank and don't exhaust all your efforts. Some pages aren't designed to rank anyway, like landing pages.

Photos

You can help your photos appear in the image search results by filling in the metadata fields with relevant alt text. If you already have a focus keyword, add that as well as long as it ties in with the photos. Then set a suitable featured image for every page so that if someone shares it on social media, the thumbnail on the preview will look engaging enough to warrant a click.
These are just some of the things on your SEO checklist, but they're enough to get you started on the right path. And remember, SEO is an ongoing process. You have to continue working on it long after your website has launched.
Save

Save
Save