Online Marketing Methods to Grow Sales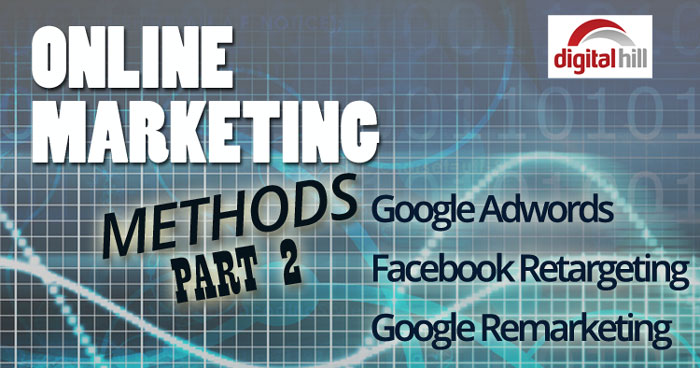 Growing sales through selling online is a powerful way to reach more people and extend your market.
To sell online means getting in front of the right people in the right places. You want much more of a laser focus than a scattershot approach. It also means directing them to the right place online with the right message once you have reached them. That can seem like a daunting task when your business is up against big companies and those with large budgets who also are trying to get in front of the same audience.
One key is knowing that there are multiple ways to get in front of your ideal client online. Last week in Part 1 of Online Marketing Methods we covered Social Media Marketing, Content Marketing and Facebook Ads as methods to reach your idea audience of potential customers. Today, I'll outline 3 more marketing methods that businesses can use online to reach their ideal audience regularly.
ONLINE MARKETING METHODS PART 2
Google Adwords
Google Adwords is an "old" standby that continues to perform.
These are Ads shown in search results in Google at the top of the page and in the right column. Like Facebook Ads, the cost is based on competition to appear, and can range from $.20-$3.00 or more per click. With Adwords, the business identifies keywords they want their ad to appear for in search results.
The value for a business is that they can reach people who are actively searching for what they are selling! Web users will only see the ad if they have typed in a search in Google's search engine which includes the keyword the business is advertising for. It's a "warm" lead opportunity for the business. The key, though, is standing out because you are competing with all the other results around you.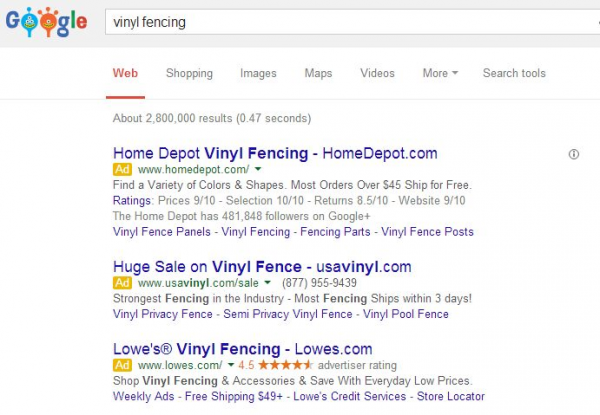 Facebook retargeting ads
A new form of advertising that has gained traction in the past year is "remarketing" or "retargeting" ads. Since we know not everyone is ready to purchase the first time they come to your website, retargeting is a form of advertising where you can reach visitors again with an ad after they have visited your website.
An example of this type of marketing is when a visitor visits the web page for "Product XYZ" but does not purchase. The business can then, via a cookie, track that and deliver ads back to that visitor on Facebook. So when the person that visited the website is simply checking Facebook to see what their friends are doing, the business could reach out via an ad in the News Feed or right column area of Facebook with an image and text saying, "Thanks for checking out Product XYX! Here's more information and a special offer.." which then directs them to specific web page tailored just to those who had visited the site already. It's a way to increase the touch points to those that have expressed some interest, and a way to follow-up and hopefully nurture the relationship towards the visitors becoming customers. So if you were on a website and then spotted an ad from that company while you are on Facebook, it's highly likely that you've been retargeted!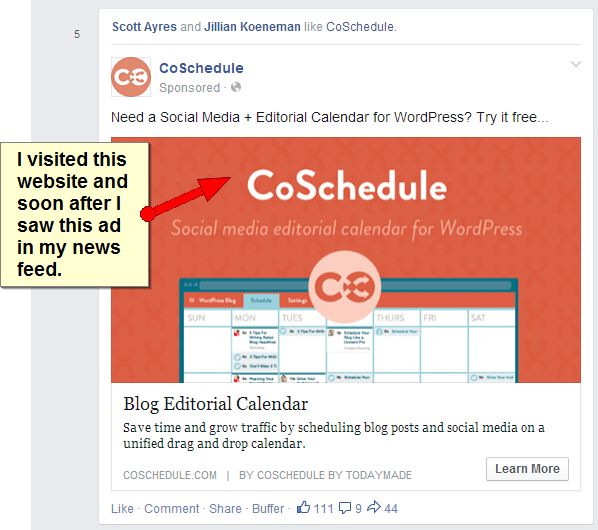 Google remarketing ads
Similar to Facebook retargeting ads, Google calls their version "remarketing ads."
The premise is the same, reach out to those who have visited your website or a particular web page again back on Google Ad properties with ads that allow you to follow-up and "touch" the visitor again.
Since Google has a massive online ad network that includes it's search engine but also includes hundreds of thousands of other websites that run Google Ads on them, the playing field is huge. You've likely had this happen to you where you visited a website, then went somewhere else online and immediately saw an ad from the website you just visited. Yes, this is remarketing!
The key as I've mentioned before is that not every visitor to your site is ready to make a purchase right away.
Data from studies by Flowtown and Bain & Company show that it takes seven touches, or points of contact, on average for consumer to trust and be ready to make a purchase with a new company. This means having a plan to have multiple touch points with your ideal audience is critical.
Using combinations of these online marketing methods that are best suited to your products or services can help your business reach your ideal audience, build awareness and relationship with them, and ultimately make your business top of mind when the consumer is ready to buy.
As always, knowing about these types of ads and running them can be two different things. Having a web partner who can understand your goals and manage a marketing campaign plan for you with the key ad types you need can help your business grow leads and sales online. As always, the key is to try, measure results, and then adjust to maximize the performance.
Want to learn more?  View the final post, Part 3 of Online Marketing Tools