9 Online Marketing Methods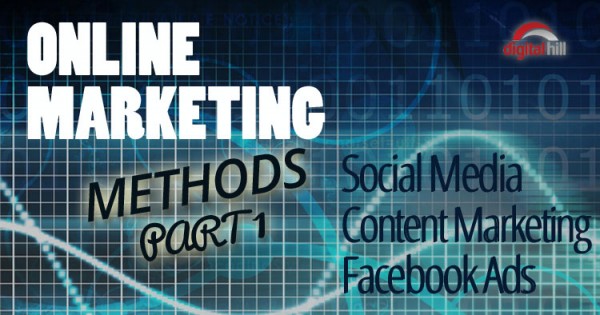 Every business is interested in growing sales and there are multiple online marketing methods to do so.
To have the opportunity to increase your sales online means:
Getting in front of the right people in the right places.
It also means directing them to the right place online with the right message.
That can seem like a daunting task when your business is up against big companies and those with large budgets who also are trying to get in front of the same audience.
One key is knowing that there are multiple ways to get in front of your ideal client online. In this three part series I'll outline 9 different marketing methods that businesses can use online to reach their ideal audience regularly. So let's get start with the first three online marketing methods in Part 1!
Social Media Marketing
A form of marketing that has really taken off in the past 3 years is social media marketing.
Businesses have created their brand accounts on platforms like Facebook, Twitter, LinkedIn, Pinterest, and more to use as a method to share their blog posts, to connect with their fans and followers, and to reach interested people.
Typically this is done via posting on the social networks and monitoring mentions of the company so that the brand can respond to questions and items. The key is in offering value and not being "salesy" in approach. The networks are "social" so businesses need to flow with that. By offering interesting, helping, and even entertaining content in a style that reflects the company's unique culture , a company can grow their online community. See more tips on social media content here: Digital Marketing Keys.
Content Marketing
Content marketing is a valuable method of helping your company be found online and to rank well for important keyword phrases that your ideal client is likely to search for in search engines like Google and Bing.
Typically content marketing is done via blogging by companies where they have team members regularly adding new content to their website via blog posts that are targeting certain topics, keywords, and keyword phrases. Often this can come in the form of a "Resource Center" where the posts are informative and offer help. They can be "How to" posts, or industry information, or guides on how to best use products or services. It is content that helps and addresses questions your potential customers may have.
A great example of a business doing content marketing is this pool company in Virginia, River Pools and Spas. They offer lots of online content that answers the key questions potential customers will have.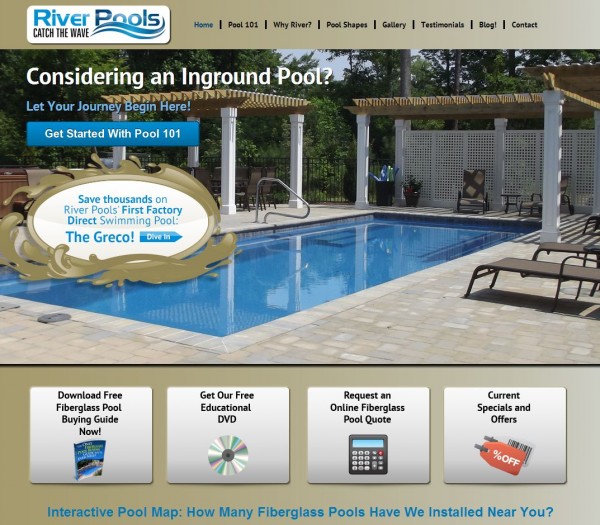 Facebook Ads
Businesses with a Page on Facebook can run targeted ads in the News Feed to reach specific customers.
The News Feed is where users spend the most time scanning posts on mobile and desktop, and with Facebook being the most used social network in the U.S. and across many countries, it's a great place to reach your audience.
Ads can also be placed on the right side-bar area in Facebook where desktop users can view them. Facebook Ads can range from $.05-1.75 per click. There are also methods to deliver ads on a "pay per impression" (for having an ad shown to the ideal audience) and the cost variables range based on the competition to reach that audience.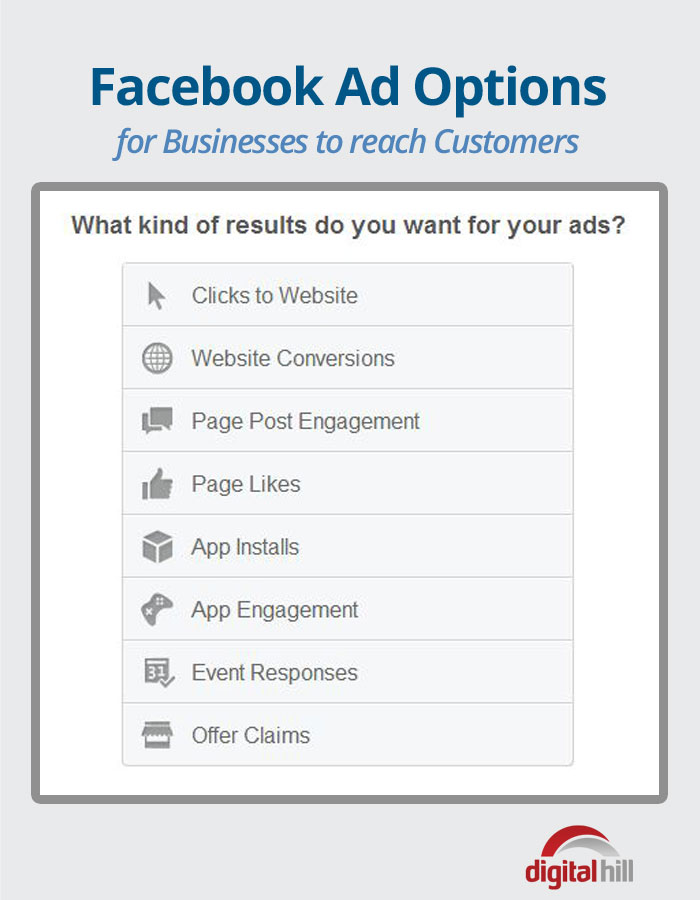 The value of Facebook Ads is that a business can be highly specific in their target. Facebook knows so much about each user and this is then the way they can help a business reach their ideal audience. If you want to reach 22-29 year old males living in Elkhart County who also like NASCAR and the Indianapolis Colts, Facebook can help you do that! That's the power of Facebook Ads, you pay but you reach a precise audience.
The key is understanding how your ideal audience uses the Internet and where they spend time online, then creating a plan that can include these methods to reach that audience online. Using combinations of these online marketing tools that are best suited to your products or services can help your business reach your ideal audience, build awareness and relationship with them, and ultimately make your business top of mind when the consumer is ready to buy.
Interested in getting started but not sure what marketing methods and combination can work best for your business? Contact Digital Hill today for an initial discussion and exploration of ways we can develop and manage a campaign plan for you with the components that can grow leads and sales for your specific business.