PDF Creator: Advanced Website Software Tool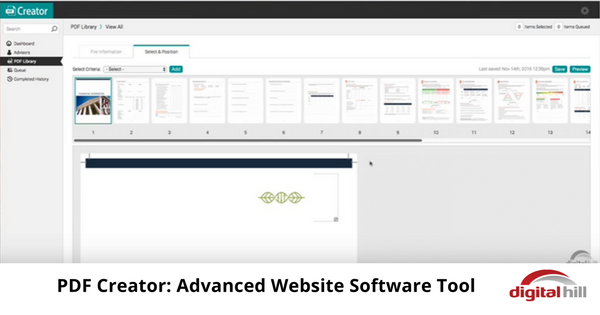 Many industries use PDF's for marketing and sales. Companies like Ikea use PDF's for instruction on furniture construction. Businesses that work with statistics and measurements like financial advisors and end of year reports are frequently created in PDF form for easy reading and delivery. While this file format has many advantages, they're not easy to customize. How much more information and education could you give your customers if your PDF's were easy to create and customize on a larger scale?
What is PDF Creator
The PDF Creator is an easy to use PDF customization tool created in this case specifically for a client in the financial advisory industry that wanted to make customized materials available to thousands of advisors nationwide. In just a few simple steps you can load any existing PDF, add new content like a logo, advisor profile photo, and company data, and create an entirely new, customized PDF. If multiple locations want their own customized and branded copy of the PDF, select their name from the list and add them. Here's how it works.
Using PDF Creator
The first thing you see when you log into PDF Creator is an intuitive dashboard with three sections:
Recent PDFs / Upload PDF's
Jobs Queued
PDFs Created
You get a good overview of your activities in this panel. Add a location or salesperson/advisor and company data by filling out form fields like their name, profile picture, website, and email. Anything you want on a customized PDF is available. Add disclosure statements for FINRA compliance. Each advisor/salesperson can be uploaded into the system with their customized data and profile photo.
Next, load the existing PDF into the system. You can even categorize them. When you want to customize a PDF, you open it in the dashboard tool. Drag and drop data fields anywhere on the document to add info. Font styles, size, and colors are all customizable as well.
Saving, Customizing, and Distributing
Once you have everything positioned perfectly, save the PDF. When you want to use it, click on the PDF Library and add it to the job queue. Jobs can contain multiple PDF's if you want to customize several documents for the same set of advisors. Choose the people you're customizing for and save that list. Preview the customization and make any changes, such as repositioning your fields or adding new ones.
Each PDF in the job queue gets customized for your advisor list, with an individual PDF file for each person. Hence, this mass production cuts out all the repetitive work associated with editing a PDF. You can download these documents in a zip file or email a unique link to each person/advisor through this tool.
PDF Creator is great for any industry with material that needs to be customized for lots of people. Have needs for an advanced web software tool like this that can build efficiencies and effectiveness for your business?  Contact us to discuss today!