The Power Of Evergreen Content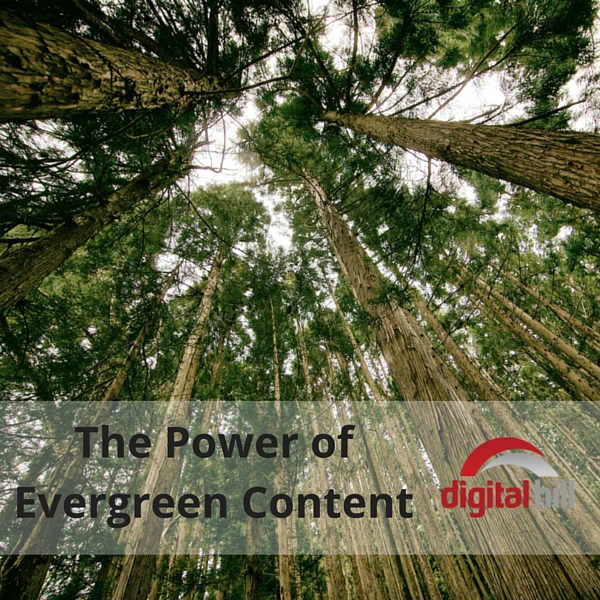 You may have realized the value of original content for marketing. But what happens once your content has been read? Does your content have an expiration date?
Consider that your content sometimes has a lifespan. If you write about a holiday such as Valentine's day, that piece is going to have the greatest value immediately prior to and following — you guessed it, Valentine's Day — a pretty limited timeframe.
Content can be costly. Whether you pay people to create the content, or you write the content all yourself, it will take money or time to create content. So smart marketers want content that will continue to pay dividends long after it's been published.
The key is to produce "evergreen content". Like an evergreen tree that always has green needles, evergreen content has no expiration.
This content is relevant and stays fresh for readers all year long, day-in and day-out. Usually, these are topics where the information doesn't change over time, like principles or keys that remain valid.
Why Is Evergreen Content So Powerful?
Evergreen content is powerful because it is viewed over and over and over again. It needs to be teamed with search engine optimized keywords and keyword phrases that people type into Google and search for related to your products or services.
Base your evergreen articles around the keywords you want your website to be found for.
For example, an evergreen article for a general contractor would be "10 Tips to an Easy Kitchen Remodel". The keyword kitchen remodel, and kitchen remodeling will be used liberally throughout the article in headings, sub-headings and body content.
We'd make the article at least 600 words in total. People looking for a new kitchen will most likely type kitchen remodel or kitchen remodeling into the search area, and this article will be offered as one of the search results.
Of course, the article must also follow SEO best practices to get found. Evergreen content alone won't get your website traffic. You'll need to use both SEO best practices and evergreen content for the best results.
Evergreen content has a high ROI on the time investment. You'll still incur the cost of creating the content, but it will be viewed over and over again.
You'll have a lower cost per view for evergreen content. It can be shared on social media over the course of a year or longer and you can refer back to these "anchor posts" in other content you write.
Types Of Evergreen Content
Long-term value content will take a "big picture" look, teach a skill, or give tips or hints to beginners.
Excellent sources for evergreen content are:
Website FAQ's
Case studies
How to guides and tutorials
Evergreen content establishes your blog as a go-to resource where people can learn more about your industry, as well as your products or services.
Tips For Writing Evergreen Content
Stick to the basics – Don't use technical language and jargon. People may not know what a truss is, they may call it a header or vice-a-versa. You don't want to go over people's head and alienate them.
If someone called and asked you a question, how did they describe it? That's a key indicator of the terms to use!
Interlink your posts – If you do need to use jargon link the challenging word back to a blog post explaining it. Or if you're creating a "Guide to" link to several "How to" articles which explain things in depth. This is great for your site SEO.
Mix Timely with Timeless Content
While evergreen content on your website is important, it's not the only type. You'll need a blend of timeless and timely content for Google.
Keep writing about topics with a short shelf-life also. Vary your content and your content length to include both. Make sure you content is something that people not only want to read, but also want to share with others.
That's a introduction to "evergreen content." It's a key source of web content for your site or blog that can have important long-term benefits for your "findability" online.
Take time now to evaluate what resource-rich topics you may need to add to your website.