Power Tool for Sharing What's on your Screen: Jing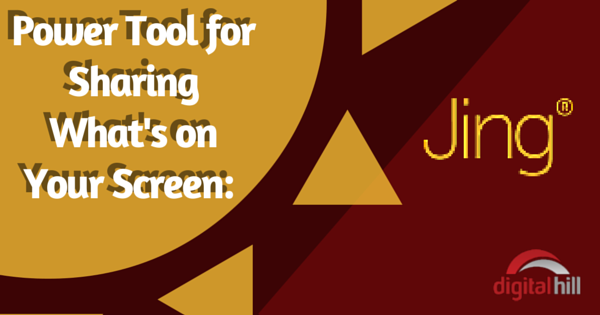 Have you ever wanted to capture what is on your computer screen, whether a web page, a product, or an image, and just capture a specific part rather than the entire screen?
How about adding notes to your screen capture, would that be helpful? A great timesaver for business and personal use is the "Jing" software download. It allows you to easily capture, add notes to, and share what is on your screen.
Jing is a product of TechSmith, makers of a number of innovative tech solutions. It's available for Windows and Mac download and is a free service. Beyond simply capturing a image and adding your notes, Jing also allows users to create simple videos, add visual elements, and then save and download or share easily via email and social media.
Why Use Jing?
The reasons can be many. Maybe you would like to clip items from web pages and create your own list of items without typing up summaries. For businesses, it gives users the ability to create product demo's and tutorials that can be images or videos. For the marketer or social media user, it's a way to quickly personalize and add your thoughts to a image on your screen and then share to social media.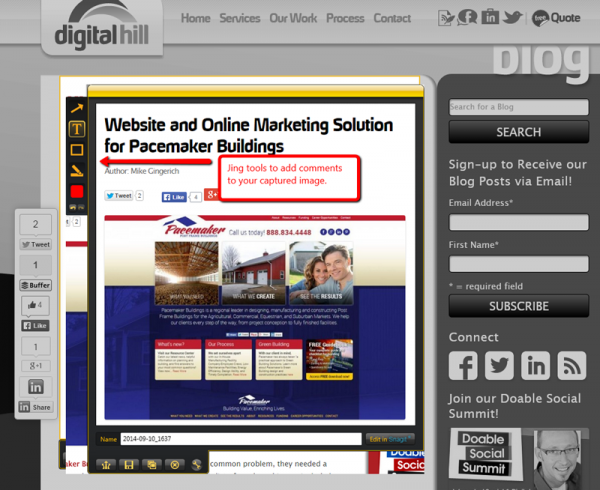 How Does it work?
After downloading and installing the Jing software on your computer, Jing displays a "sun" image at the top of your screen. It's always there and upon mouse hover over it expands to offer you "Capture," "History", and "More" options. Most often users will select "Capture". At this point your screen will have a shadow layer and grid lines enabling you to simply go to the area to capture, click and drag to create the captured area of your choice. Once the area is identified then a next series of questions applies. This enables you to select if it is to be an image or video and then the tools for annotating appear after that.
There really is no downside to Jing. It's a lightweight add-on and it's quick and easy to access and use. For me, it's a great timesaver and a way for me to be efficient with my time. Whether you're a marketer, teacher, or personal user, there are multiple uses that make Jing a great tool for your computer.