Professional Landscape Website for AquaScapes of Michiana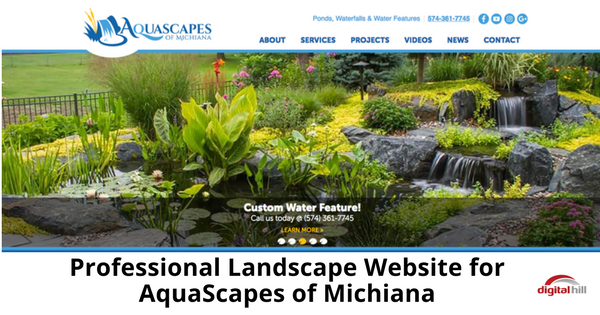 Based out of Indiana, Aquascapes of Michiana is an outdoor waterscape and landscape installation company that prides itself on creating beautiful ecosystem ponds and fountain scapes. Aquascapes's new website reflects the company's value that customer satisfaction is first and foremost.
Let's cover some of the site's prominent features.
Customer-friendly Landscape Website Design
First and foremost, the site has a clean interface. The navigation bar and footer provide contact information, convenient links to other pages, and links to the company's social media.
Therefore, visitors can navigate to Projects, Videos, and Services, from any page on the site. The main pages are always just a click away.
Check out the Website Gallery
Next, on the homepage, customers are greeted with a gallery of dynamic water features and the company's latest projects. The gallery shows how attractive a pond or a waterfall built in your own yard can be.
As a result, placing the gallery right on the front page of the website gives potential landscape customers a glimpse of the work done by the company. Hence, an insight into the company's capabilities and new possibilities for their own water feature projects.
Simple Content Management with the DH CMS
A great site isn't just nice to look at; it's nice to work with. The CMS system behind the site allows admins to control the site. With this CMS, you can add, delete, or edit pages, the navigation bar, content, and images through a portal from anywhere you are as long as you have an Internet connection.
If Aquascapes wished to update their gallery to include more projects, they could easily log in to the portal and edit the gallery photos. Having a CMS system allows Aquascapes to improve user experience and respond to changes quickly to keep the most current information on the site at all times, all within their power and no website updating costs.
Boost Conversions With the Blog Resource Center
Getting traffic and new customers often begin with a regularly updated, informative blog. A resource center is a great tool to add new information to your website.
Think about a site that lacks a blog. It would be difficult to update existing customers and even harder to pull in new prospects. Nevermind the reduced ability to capitalize on SEO. The resource center keeps visitors up to date and engaged and keeps the site from feeling outdated (which helps retain prospects).
Overall, this professional landscape website has a great flow to it. It's easy for a prospective customer to use and even easier for the company to update.
Aquascapes of Michiana's site was designed by Digital Hill.  Our web design company serves companies in Indiana and all over the US. Learn more at digitalhill.com.
Save