Recent SEO Updates
.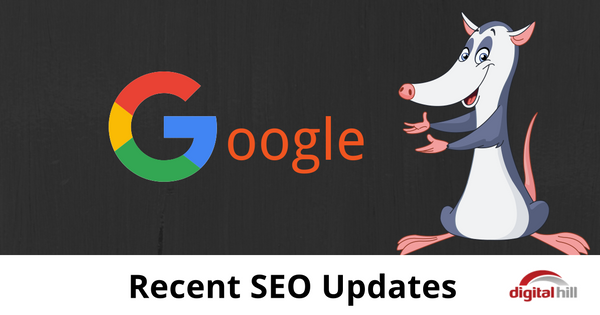 With Google constantly changing what it wants and expects from website owners, it's hard to keep up to help your site rank well in searches. Google is also extremely secretive about its updates (to help prevent Black Hat SEOs from gaming the system), which makes it even more challenging to know what to do to please the Google beast.
Regardless of if you realize it or not, Google is constantly updating its search algorithm. In fact, this happens 500 to 600 times each year. While most changes are minor, Google occasionally rolls out "significant" updates, such as the famous Google Penguin and Google Panda that affects SERPs (search engine results page) in serious ways. As a search marketer, website owner, or entrepreneur, understanding these Google updates is essential to keep a current ranking intact.
Google's New Possum Update
According to some experts, the Possum update is the most significant change for local search results since 2014, when Pigeon was rolled out. Initially introduced in the first part of September, this update honed in on the importance of location with the 3-pack and Local Finder.
Once unleashed, the update caused businesses, particularly ones outside of the city limits, to see a spike in their SERP (search engine result page) rankings. In the past, these companies found it difficult to appear in the local search results. Google ignored addresses noted in a different census-designated area.
Another change that came along with Possum was better filtering capabilities. For example, some legal offices may try to create profiles for each lawyer at their location, thinking they can get individual listings on the local search results. With this update, this is no longer possible. Google recognizes duplicate addresses, phone numbers, and links to the same website.
Additional changes that occurred with Possum include:
The searcher's physical location is more important than in the past.
Search results vary based on even slight changes in keyword phrases. For example, lawyer in San Francisco and San Francisco lawyer now may produce different results.
Google's Penguin 4.0
The Penguin filter was designed to find sites spamming Google search results in ways the regular spam system may not detect. The original Penguin update was released in 2012, the 4th and most recent release, rolled out on September 23rd.
This update to Penguin resulted in an end to long delays. Now, Penguin is real-time, and as Google recrawls and reindexes pages, they are assessed by the filter. As a result, new pages are caught and freed by the Penguin filter all the time.
Penguin is also more granular than in the past. The filter devalues spam and adjusts ranking based on spam signals, rather than affecting the whole site ranking. In the past, Penguin assessed a site-wide penalty.
Another big announcement from Google related to the Penguin 4.0 update. Google will no longer announce additional changes since it's a real-time, consistent process.
Google's AMP Update
The AMP (Accelerated Mobile Pages) project was designed to make the mobile web experience faster. AMP originally launched in February of 2016, which allowed Google Search to deliver news in a reliable and fast way. In August, AMP showed up as a preview on all mobile search results pages. This latest update provides faster experiences for users across the globe.
When using a mobile device, you can now see a label that indicates the page is AMP'd. While this doesn't change the actual search results or impact a site's ranking, it does show the pages that can load as fast as lightning.
At the time of the update, an AMP page from a Google Search took less than a second to load. In addition to saving users time, AMP also helps minimize data usage. In fact, pages labeled as AMP'd use 10 times less data than the equivalent non-AMP'd page.
While most Google updates aren't much to worry about, the ones listed here have a larger impact on search engine rankings. If you have a website that is currently doing pretty well in rankings, keeping up with these updates is a must. It helps ensure you can continue on this path of search engine visibility. In most cases, common sense applies to SEO methods. But for those who want to know the specifics, getting to know algorithm changes is often beneficial.
In case this is all a foreign language for you, Digital Hill can help! Get in touch.