STOP! Don't Purchase Fans or Email Lists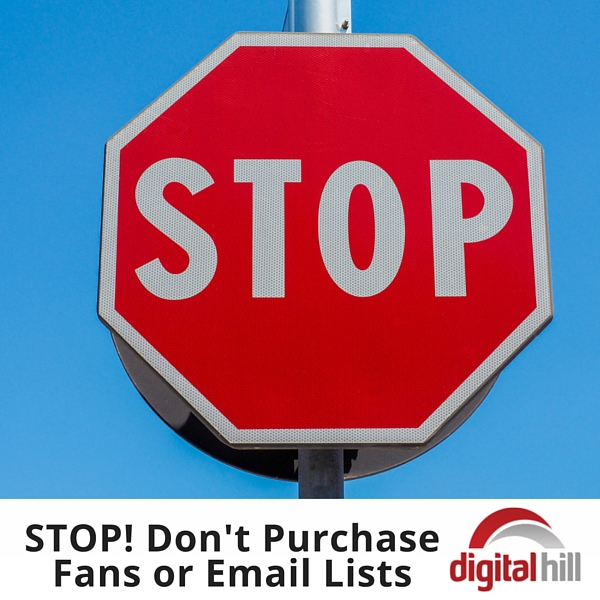 Do you know why it's not okay to purchase your email list, fans or social audiences?
We all want our websites to appear on the front page of the search engines. We also want to have a huge customer base that assures sales.
Scammers have used these desires to lure business owners to buy social media fans, page likes or purchase email lists of people interested in their services. Scammers ask for small cash amounts for websites to appear on the first page of Google with little to no work on the part of the site owner.
Are these offers legitimate?
If they were, everyone would use them.
Purchased email addresses, fans, and likes are not as real as they seem. An email list isn't a guarantee the email address owner is a potential customer. To make matters worse there is no guarantee that these email addresses are owned by real people.
Building a Fanbase Takes Effort
Earning a huge fan base or growing likes on social media is not a free ride in the park. It takes time and money to develop content that fans love and share. But paying for audiences is the easiest way to get your account or website shut down by a social media network and lose your hard-earned money. Did you know Facebook has a way of vetting the fans a Page has? Did you know that email companies can shut down your entire service if you upload a list with bad addresses on it?
Earning audiences organically and with social media ads guarantees you of an audience that is actually interested in what you have to say and your product. People with a natural interest have a much better chance of going to the store and making a purchase. They're also likely to refer your business and products to their friends and relatives.
When you have a huge number of likes without a proportionate number of customers, you're looking for trouble. You may buy fans only to lose them when they're flagged as spam accounts. It also looks bad if someone local looks at your Page fans and sees hundreds of fans from India and Pakistan, places where you would not likely have huge followings! By purchasing fans instead of earning them, you'll lose the trust of your real fans when your like numbers drastically drop in a short period of time. Besides, Google will not hesitate to blacklist your website if you're found to be participating in these shady activities.
How can you grow your fan base legitimately?
Online marketing is indispensable when it accelerates a company's growth. To get your website to the top of the search engine, you'll need quality, SEO-rich, consistent content. People love being informed. Encourage people to subscribe to monthly newsletters by providing free downloadable resources to website visitors in exchange for an email address. These free resources should offer more value than the usual blog posts. This way, you can keep visitors informed about new offers or product improvements.
Once you've created meaningful and relevant content related to your products, share it across all your social media platforms. Push your content to as many people as you can. Respond quickly to comments and feedback. Always view critiques as a stepping stone to achieving your business goals. Quick interactions with social media users can help create a huge fan base.
Here's the full blab with Jessika and I. Enjoy!
Join Jessika Phillips and I live on Blab every Tuesday afternoon at 4pm for our 30 minute Magnet Marketer live videocast online.