Why Your Product Inventory Needs to Be on Your Site and a 3rd Party Site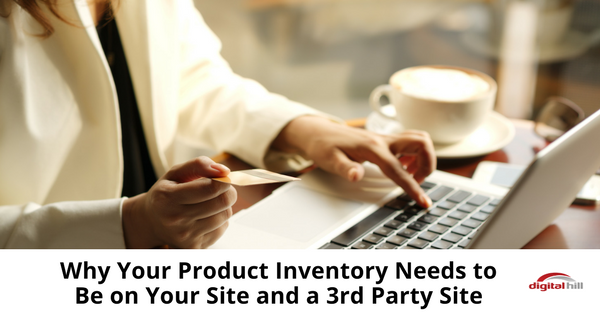 Third-party marketplaces range from all-in-one e-commerce monsters like Amazon to niche specific platforms such as Etsy. When you already have a website, you may assume that setting up on a third-party site, in addition, is not necessary. After all, when you have potential customers visiting your eCommerce website, they're not going to get distracted with another brand's products. However, you get some significant benefits from putting your product inventory on third-party sites too.
Brand Awareness
The people using the marketplaces may not be looking for a particular product in your line, but you'll make an impression on them over time. They'll see your branding, see your products and start to trust your company.
Leveraging External Traffic Sources
You might be able to get a sizeable amount of traffic to your website, but it's not going to be anywhere near the volume that Amazon and similar marketplaces pull in. All of that traffic is another opportunity to get eyes on your products.
These large marketplaces invest a lot in marketing, advertising, and infrastructure. You reap the benefits of their much larger budget and start to generate loyal customers who will end up on your site eventually.
Discovering Different Audiences
The people who visit third-party marketplaces won't be the exact same audience that shop at your site. You can put your items in front of entirely new customers and potentially discover new market opportunities. Pay close attention to your analytics on these sites. Watch for strong shopping trends with demographics you didn't consider before.
Access to Selling Tools
Many third-party platforms offer a range of seller tools that help get better results from your listings. Take the time to experiment with these features and see whether you want to incorporate them into your own site. You don't have to go through the trouble of implementing new features in your e-commerce solution or going through extensive testing to make sure everything works correctly. The marketplace does the work for you.
Distributing Income Streams
Hopefully, your website never gets hacked, servers going down, or another issue that makes it impossible for customers to purchase items. If you do, you lose your revenue source until things get functioning again.
When you diversify your sales channels and put your products on third-party marketplaces, you limit the blow to your income from unforeseen circumstances. It's still a frustrating situation, but it's not as dire as it would otherwise be.
Third-party sales channels complement your website perfectly. You get a lot of unique benefits from this approach. It's well worth the time invested to list your products.
Do you have a plan for expanding your reach? We can help with strategies and implementation. Contact us to discuss!