WordPress Plugin Review: WPJobBoard
[fusion_builder_container hundred_percent="no" equal_height_columns="no" menu_anchor="" hide_on_mobile="small-visibility,medium-visibility,large-visibility" class="" id="" background_color="" background_image="" background_position="center center" background_repeat="no-repeat" fade="no" background_parallax="none" parallax_speed="0.3″ video_mp4="" video_webm="" video_ogv="" video_url="" video_aspect_ratio="16:9″ video_loop="yes" video_mute="yes" overlay_color="" video_preview_image="" border_size="" border_color="" border_style="solid" padding_top="" padding_bottom="" padding_left="" padding_right=""][fusion_builder_row][fusion_builder_column type="1_1″ layout="1_1″ background_position="left top" background_color="" border_size="" border_color="" border_style="solid" border_position="all" spacing="yes" background_image="" background_repeat="no-repeat" padding_top="" padding_right="" padding_bottom="" padding_left="" margin_top="0px" margin_bottom="0px" class="" id="" animation_type="" animation_speed="0.3″ animation_direction="left" hide_on_mobile="small-visibility,medium-visibility,large-visibility" center_content="no" last="no" min_height="" hover_type="none" link=""][fusion_text]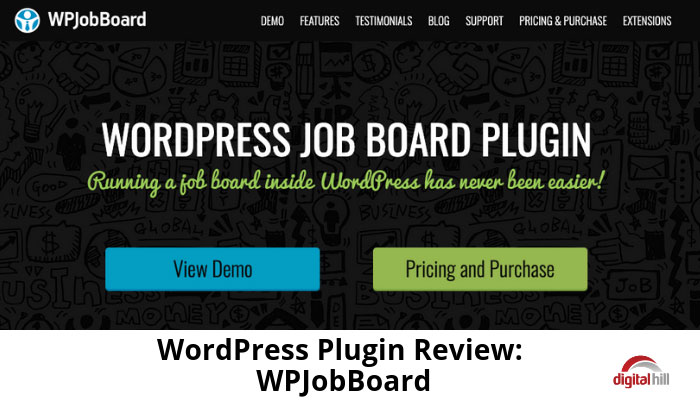 Are you looking for a professional way to advertise jobs on your website? Better still, do you have multiple departments and each has its own job listings you'd like to bring together in one area?
WP JobBoard can help you achieve both goals. The following is a short review of the web software to help you decide if it's the right WordPress plug-in for your website.
What is WPJobBoard?
WPJobBoard is a premium WordPress plugin that allows users to easily add a job board section into an existing WordPress website. So rather than needing to use paid job boards, you can list jobs and receive applications right on your website.
Key Features of WP JobBoard
We'll look at the employer, candidate, and site administrator features separately for ease of understanding.
Employer Features
To use WPJobBoard, employers first need to register. You can still post jobs without registering, but in that case, you'll have to provide your company details every time you're posting a new job. To register, go to the Employer panel, select Employer Registration, fill in the required information, and when done, click Register. Once you've registered;
To post a new job: Click Post a Job or go to Jobs and select Post a Job. You'll be asked to provide a job title, description, job type, and company information among other details.
To charge third parties: Check the Premium option under Listing Type. With this done, all premium job posts will be charged $10/month.
To preview a job before publishing: Click Preview. If there's a problem with the listing, click Edit to make necessary changes.
Candidate Features
Candidates too are better off registering from the onset so they don't have to enter personal details every time they're applying for a new job. The Candidate Registration section is available under the Candidates panel. Other features in the Candidates' panel include;
My Resume: To have their profile rated 100% complete, candidates must fill in all the details in My Resume section.
My Applications: This section displays all the applications a candidate has sent using the platform.
My Bookmarks: This section displays all the jobs a candidate has bookmarked.
To apply for a job, a candidate goes to the Jobs page to view currently available jobs. Next can click on job titles to read the details of relevant jobs.  After finding the right job, clicks the Apply Online button to submit an application.
Site Admin Features
Finally, website administrators can perform a range of tasks including but not limited to;
Viewing the job board to reveal; active, inactive, and expired jobs
Viewing the Applications section to reveal applicant details
Viewing the Employers page to reveal all employers and their current open jobs
Opening the Candidates section to view registered jobseekers
Tracking the Payments page to find out the payment status of all jobs
Additional Features
In addition to the above features, WPJobBoard for WordPress websites also supports the following;
Social media integration for both employers and candidates
PayPal and Stripe for accepting payments
Custom fields if you want to request special information
Location-based listings that show up on Google Maps
Distribution of postings to job aggregation sites such as Juju and SimplyHired
User Support
WPJobBoard comes with an exhaustive knowledge base comprising; product documentation, user guides, and tutorials. Email support is also available.
Pricing
There are two license options to pick from; a Personal License priced at $97 for use on one website and a Business License priced at $199 that can be used on multiple websites.
Is it Worth It?
Absolutely! WPJobBoard is not only easy to set up, but it also works on all WordPress themes. Furthermore, allows for deep customization, and comes with a ton of useful job board features. You should definitely try it.
Interested in getting a Careers area and Job Board setup on your website?  Contact us today to discuss how we can make it happen.
[/fusion_text][/fusion_builder_column][/fusion_builder_row][/fusion_builder_container]