Facebook Video Marketing: Increase Blog Post Reach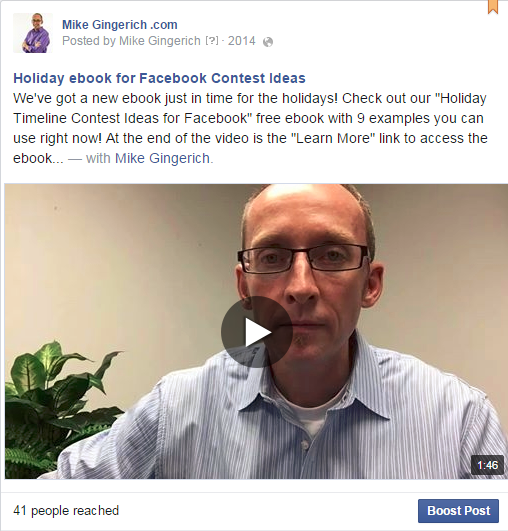 Facebook is always changing!
If you want to market on Facebook, you must adapt and change as Facebook changes.
Facebook is now allowing you to load a video directly to your Facebook page. You're not sharing to your page like YouTube or Vimeo. You're actually publishing your video on your Facebook page.
Like all good digital marketers, I've played done quite a few test for my own videos. I upload the very same video to Facebook and YouTube. I then share them at the same time of day on my Facebook business page. Facebook wins every time! The reach and engagement I get with the Facebook native video is HUGE compared to the YouTube link share. Facebook is about giving your audience content they find valuable and want to like and share. But your fans have to see your content to engage with it.
I've found the short video I post directly to Facebook are performing anywhere from 50 to 400% better than text, photo and link posts for most of the pages I manage! Holy cow that's amazing!
Facebook launched video "auto-play" this past summer, and they've added new features for video ads. Facebook has reports showing how well videos are performing (videos are watched, liked, shared and clicked on).
This is too important of a tool and update for businesses to pass by. (Who hasn't gotten sucked into watching video only to look up at the clock and an hour has flown by!?!)
How To Use a Facebook Video:
Don't be afraid of video! It may not take professional equipment and a lot of hard work to create a video. I'm seeing great results in terms of driving traffic from Facebook to our website with videos made on my iPhone!
 Here's how I do it….
Promote Blog Posts with Facebook Video
Every week I write new blog posts.  When the blog post goes live I …
With my iPhone, I make a 1-2 minute video.  Most phones are HD capable so quality is no issue.  I use a simple $12 tripod on a table to hold my video.  It may take 1-2 tries to get the video the way I want it, trim it.
Then, using the "Photo/Video" option I upload it to our Facebook Page as a post.
When uploading your video use the "Call to Action" link.
I like to use the "Learn More" button and add my URL.
A custom headline is a must! Then add a link description as needed (shown above).
Click post!
I get more reach and engagement that drives more visitors to my website when I promote my newest blog post on Facebook using video.
This strategy is working incredibly well, and it's FREE!
Have questions?   Let me know!
BONUS: Facebook Video Ad
I also use the "Get Video Views" newer Facebook Ad feature.
I load the video to Facebook, set my Call-to-Action button and with Ads I get a more targeted focus on specific users that would benefit from the post.  I like to use the "Advanced" features and target by job title, age range, location, and interests to hone in on my ideal audience!