Game Plan for Facebook Marketing Course
It's time to take your Facebook Marketing to the next level!
If you know you need more than what you are currently doing on Facebook, let me help guide you to the next level!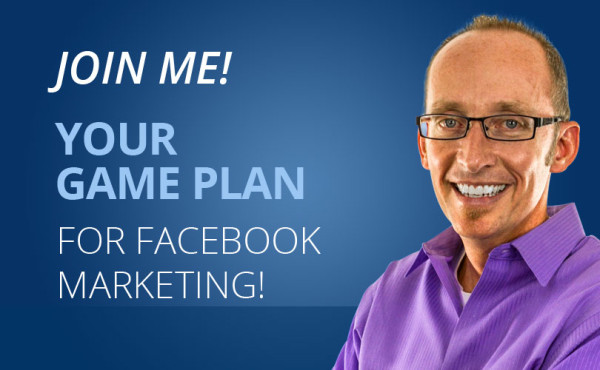 Geared for the marketing professional wanting to enhance their skills and tactics with Facebook Marketing.
Session 1: Posting strategy (content, attraction, lead capture, tools, methods)
Session 2: How & When to Use Ads: Ad Spend mix, Local Ads and Demographic targeting Ads
Session 3: Integrating your Marketing: Web Content & Email Nurture Campaigns with Facebook
BONUS Session: Growing Web Traffic with Facebook & Social Media
Each session is 60 minutes with Q & A.
Course starts June 17.  Registration Door closes on June 12!
Click below for course details.
FB Game Plan Course
$59
Includes all 3 Sessions + Bonus
3 Online Web Facebook Sessions
1 BONUS Online Marketing with Facebook Session
Tactical advice for next steps!
Course + Private FB Group
$89
All 3 Sessions + Bonus + Private Group
3 Online Web Facebook Sessions
1 BONUS Online Marketing with Facebook Session
Private Course-Only Facebook Group
Game Plan for Facebook FREE eBook
Tactical advice for next steps
Course + FB Private Group
+ 1 Private Consult Meeting
$149
All 3 Sessions + Bonus + Private Group
AND Private Skype Consult with Mike
3 Online Web Facebook Sessions
1 BONUS Online Marketing with Facebook Session
Private Course-Only Facebook Group
Game Plan for Facebook FREE eBook
One 45 Minute Skype Consulting Time with Mike
Tactical advice for next steps