New Business Website for Great Lakes Forest Products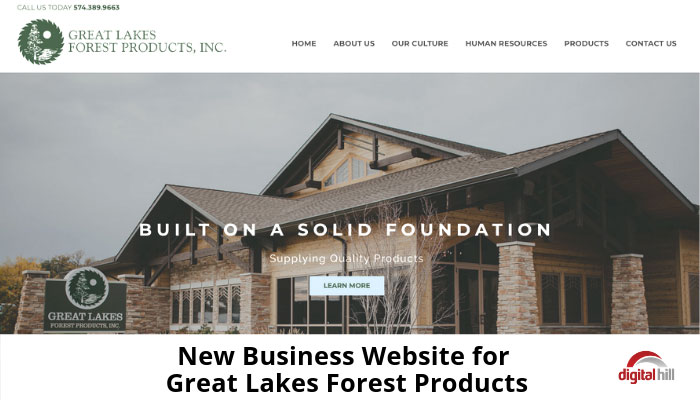 We recently created a stylish new business website for Great Lakes Forest Products. This Indiana company sells an assortment of plywood and lumber. The new WordPress website supplies facts on jobs, merchandise and GLFP's history. Both customers and employees benefit from its versatile yet easy-to-use interface. Our staff designed this website to meet the client's needs for many years rather than simply making a good first impression.
Eye-Catching Website Features
Exploring GLFP's content, visitors notice sleek fonts, attractive photos, and a sophisticated drop-down menu. Some menu sections expand to show more links when you click the plus symbol. The website also boasts integrated street maps and a scrolling image gallery that showcases the company's wares. Customers can fill out a contact form if they want to learn more.
The homepage has three areas with appealing rollover effects. If you move your mouse pointer across the "Jobs" section, you'll see what we mean. A portion of the page "flips" over, revealing more details and a button-style link. These effects help give the website a modern look and enhance its appearance by boosting white space.
Top-Notch Usability
No one wants to visit a beautiful homepage that frustrates people or slows their internet devices to a crawl. Our designers understand this; we don't let fashion come at the expense of usability. The GLFP website loads rapidly, offers easy navigation and works well in numerous browsers, even if you don't have the latest computer. It adapts to fit many screens, including mobile devices, without forcing visitors to scroll left and right.
We also recognize the need to make websites usable for the people who maintain them. Everyone has seen business pages that look like they haven't been updated since 1998. Fortunately, our clients benefit from the WordPress content management system. It empowers people to easily update and customize their websites without the need for coding skills or special software.
Clients don't even need programming expertise to add extra features to WordPress-based sites. More than 54,000 plugins provide a tremendous variety of enhancements. You can use them to create email newsletters, set up member-only pages, build educational courses, start an online store or offer new ways to communicate. For example, one popular plugin adds a live chat system.
Search Traffic
A business website holds little value if people don't see it on Google or Bing. This is another reason why we use WordPress; it was designed so that search engines can easily find webpages and add them to the results. Our company takes this benefit a step further by including the Yoast SEO Tools plugin. It helps businesses optimize every page, preview their search listings and quickly adapt to Google's newest rules.
You don't have to take our word for it; visit www.glfp.net to see these features in action. If you appreciate this example of our latest work, consider hiring Digital Hill for your next web design or internet marketing project. We have offices in Pennsylvania and Indiana. Please call 888-537-0703 or 574-537-0703 to reach our friendly, helpful staff.