New Manufacturer Website: NPWTools.com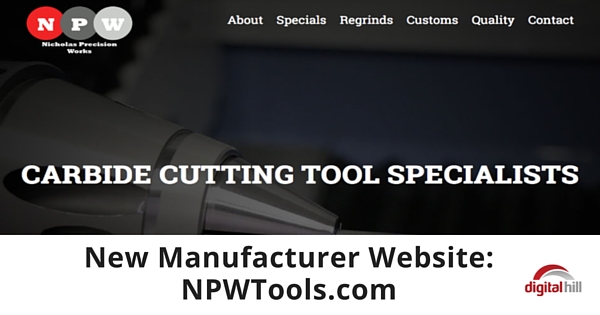 The tech revolution has changed the way you operate and manage your business. Digital marketing has reduced marketing and operation costs and increased returns on investment when used efficiently. To succeed, your website and digital marketing must follow a specific set of best practices which have worked over and over again for high ranking websites.
Nicholas Precision Works (NPW)
Founded in 2014, this family-owned business specializes in the manufacture of carbide cutting tools. They provide high-quality carbide cutting tools. With almost 200 years of combined cutting tools knowledge, NPW craftsmen design, manufacture, and help fulfill all your cutting requirements whether you're in the medical, woodworking, automotive, or aerospace industries.
NPW has top quality processes, equipment, and craftsmen who deliver reliable and repeatable tooling at affordable prices. NPW will help you succeed in your custom tool manufacturing, and precision regrinding processes. They practice stringent in-process inspection and a thoroughly comprehensive final inspection to make sure you get only quality products. They're always precise and strive relentlessly to meet all demanding quality requirements.
Content Management System Website
Since NPW is still a startup business, they contracted with Digital Hill to build them a simple, custom website with an integrated CMS system for making web page updates. The site is entirely interactive for visitors and is easily navigated and mobile responsive. The redesigned responsive website will help NPW customers to get all the information they need about carbide cutting tools on all devices including smartphones, tablets and computers.  At the same time, NPW Tools has ability to make image and content edits on the site to keep it current themselves going forward, a win-win scenario.
NPWTools.com is a Paralax website. This means 1 longer page contains all the site informational pages. It's a clean look that's easy to navigate, works simply and looks beautiful.
Since NPW experts mainly specialize in the manufacture of high-quality carbide cutting tools and not managing websites, they need a clear and easy way to make updates on their websites themselves. Thus, the Digital Hill CMS website system is an ideal solution for them. They're able to maintain an excellent website with an admin dashboard that's intuitive and easy to use.
Do you need a new mobile responsive website? Digital Hill has CMS experts who will redesign your site with CMS tools to enhance the optimal productivity and functionality of your site.