New Website for Cosmetology School
[fusion_builder_container hundred_percent="no" equal_height_columns="no" menu_anchor="" hide_on_mobile="small-visibility,medium-visibility,large-visibility" class="" id="" background_color="" background_image="" background_position="center center" background_repeat="no-repeat" fade="no" background_parallax="none" parallax_speed="0.3″ video_mp4="" video_webm="" video_ogv="" video_url="" video_aspect_ratio="16:9″ video_loop="yes" video_mute="yes" overlay_color="" video_preview_image="" border_size="" border_color="" border_style="solid" padding_top="" padding_bottom="" padding_left="" padding_right=""][fusion_builder_row][fusion_builder_column type="1_1″ layout="1_1″ background_position="left top" background_color="" border_size="" border_color="" border_style="solid" border_position="all" spacing="yes" background_image="" background_repeat="no-repeat" padding_top="" padding_right="" padding_bottom="" padding_left="" margin_top="0px" margin_bottom="0px" class="" id="" animation_type="" animation_speed="0.3″ animation_direction="left" hide_on_mobile="small-visibility,medium-visibility,large-visibility" center_content="no" last="no" min_height="" hover_type="none" link=""][fusion_text]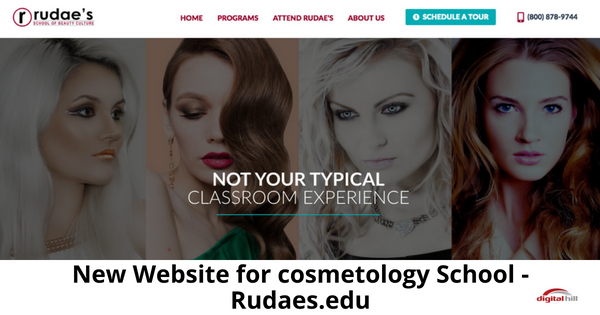 For many, an education in cosmetology is a key step towards gaining financial independence. Enhancing the beauty of others through skills as a manicurist or hair stylist is a stable, enjoyable, and worthwhile profession.
Since 1959, a school in Indiana has provided their students with the skills needed to become a successful cosmetologist. For hopefuls looking to embark on a career in cosmetology, Rudae's School of Beauty Culture offers them a chance to get the training they need to enter the field of cosmetology. They also help graduates to get licensed to work in the in the state of Indiana legally.
For potential students who want to learn more about the school, that's where Rudae's new website comes in!
Welcome to Rudae's!
A school dedicated to beauty should have an equally beautiful website. Rudaes.edu certainly fits the bill. With an attractive, clean, and well-organized layout, the site is pleasing to the eye and a perfect representation of the school.
Following the aesthetic, the website's flow leads prospective students to the information they need to begin their studies at Rudae's. What does Rudaes have to offer? How can one become a student at the school? The brand new site makes it easy to find information to start a career in cosmetology.
The WordPress website has full management features for the content and creating new pages and blog posts.  It's easy to use and quick to update, enabling Rudae's to keep the new website current and updated.
Learning More About Rudaes
Rudae's catalog is available right on the site. Thus providing answers to questions that students may have before, during and after their time at school. The catalog is full of relevant information for those beginning the journey to Rudae. It covers everything from financial aid information to possible career opportunities.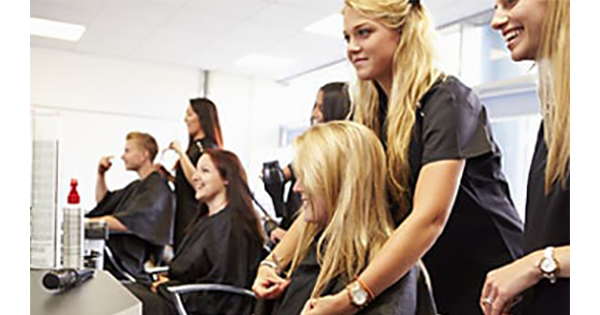 Choose A Program of Study
Rudae's has a variety of offerings and programs for students to specialize in. Each program has a full page of information accessible from the navigation bar. Therefore, costs, class hours, class descriptions, materials, and requirements are presented in a straight-forward manner.
Getting In Contact With Rudae's
After reading the site, some visitors may want to transition from dreaming about a career as a cosmetologist. Rudaes.edu is ready to help them begin.
Want to chat with financial aid advisors or visit the school? The website allows prospects to avoid the hassles of scheduling a visit or counselor meeting by phone or email. Specifically, the site comes equipped with an interactive calendar that schedules the appointments.
For students who successfully complete their chosen program at Rudae's, their career possibilities in the beauty industry are nearly endless. Digital Hill's latest website, Rudaes.edu, helps give more prospective hairstylists, manicurists, and makeup artists a window of opportunity to dive into a rewarding career.
Rudae's new WordPress website was made possible with the services provided by Digital Hill. Providing website design, development, customization, and content management services to businesses around the country for over two decades. Digital Hill has the experience to bring your business's new website to life.
Contact us via the Digital Hill website today!
[/fusion_text][/fusion_builder_column][/fusion_builder_row][/fusion_builder_container]