Why Dealers and Manufacturers Should Claim Their Instagram Handle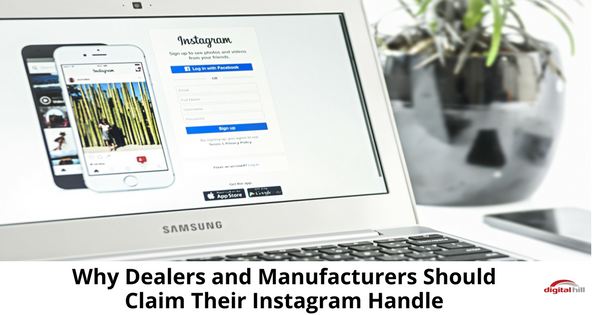 As of April 2017, Instagram users reached 700 million active users, according to Statista. That's roughly 10% of the world population! If you're not on Instagram, your business is missing out on the opportunity to reach a huge, active, online audience.
You might think that industrial manufacturers, wholesalers, and parts dealers won't have any reason to be on Instagram. But you do. While not a direct sales channel, Instagram can bring awareness, build trust, and help you reach key decision makers.  As well, remember that photos and videos can gain a lot traction online, making them effective channels for marketing. They're easy to consume and share too, so the chance of becoming viral is high.
Having said all this, it's time to claim your Instagram handle, even if you don't plan to use it for now.  Here are a few reasons why:
People look up a business on the internet.
You won't leave a good impression if a potential client searches for your business online and doesn't find it anywhere. It makes you look unavailable and outdated, especially when compared to competitors that can be easily Googled. Even if your business is going strong offline, people may think it's not operational if it's not online.
Even if you're too busy to maintain an Instagram account at the moment, claim your handle ASAP. Instagram accounts have a section for a website link and profile information, so fill out those fields to let people know how to connect with you. If you sign up for a business account, you can also add an email address and map directions.
Your handle can be taken by someone else.
Anyone can make an account on Instagram, so it's easy for your competitors to register an account with your handle, so you won't be able to use it. Yes, it's a dirty tactic, but some resort to such tricks to get ahead. But even with no ill intent, someone can take your handle if your business name isn't unique enough.
You can come up with a different handle by adding a variation to your business name but it won't have the same recall. It takes only a few easy steps to create a new account on Instagram so might as well do it before your handle becomes unavailable.
Instagram users include your target demographic.
You've probably ignored Instagram because you thought your business's audience won't be using it. Although the 18-29 age group still leads the app at 50%, the 30-49 age group comes next at 33% followed by the 50-64 age group at 18% according to Sprout Social. Combined the 30-64-year-old segment makes up nearly the other half of all Instagram users and your buyers are likely in that segment!
These numbers will increase as more non-digital natives embrace adopt mobile devices in the coming years. Soon, social media platforms will no longer be just a millennial thing. And, millennials are growing older and therefore, developing mature interests in line with your business.
A picture paints a thousand words, whether it's in an art gallery or an Instagram grid. Given the compelling power of visual content and the wide reach of Instagram, it's a good business decision to start building your presence on the world's biggest photo-sharing mobile app.