Why You Should SEO Video and How to SEO Videos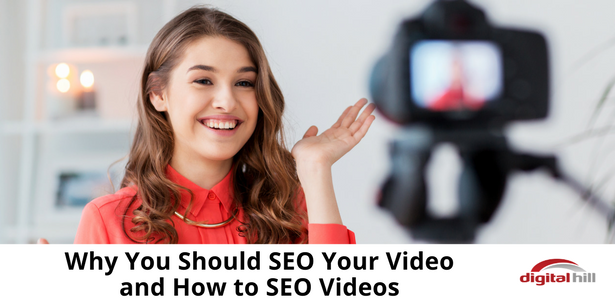 Each day millions of hours of Youtube videos are watched. This isn't atypical for the video medium. Whether it is Twitter or Facebook, video content is the most consumed form of digital content.
If you are a marketer or small business owner, don't miss the opportunity of video marketing and video SEO can give you over your competition. Video SEO gets your videos noticed.
Without it, your videos won't get discovered and certainly won't rank as high as they could have. Learn about the power of video marketing and how to optimize it for maximum effect.
Why Video Content is Effective
Images are processed faster than text. This is even more pronounced with video. With visuals being processed by the brain 60,000 times faster than text, your message gets conveyed to viewers in a way text can't do.
In the realm of marketing, videos are amazingly effective for advertising and branding. It has been reported that 64% of viewers were likelier to buy a product online after watching a video. Among decision makers and execs, nearly 60% would rather view a video than read text.
With technological improvements, you can take advantage of video marketing. As costs have gone down for video production, it is not too expensive to make quick, simple videos.
5 Ways to Optimize Your Video SEO
You can spend hours crafting a video, only to have it ignored. Improve your SEO with the following:
Transcripts
Audio transcripts and captions give video content more relevance. The more text you connect with your video, the more Google notices and recognizes your content.
Thumbnails
Thumbnails are eye-catching and draw people to your videos. An attention-grabbing thumbnail is colorful, bold, professional, branded and isn't click-bait.
Use Keyword and Competition Tools
Just like the SEO you would do for a website, video SEO requires keyword research in order to get traffic. If you are uploading to YouTube (and you should), SEO works a little differently. Instead of focusing on search engines like Google, realize that the majority of views will come directly from YouTube. That said, you should gear your SEO strategy towards being YouTube-friendly. Utilize techniques like:
Using YouTube Suggest – Find what people are searching for by typing in a keyword in YouTube's search field and see what comes up.
Watching Your Competitors – You can use specialized tools to discover the keywords used by the competition. Likewise, you can simply find your competitor's channel and take a look at the tags they are using.
Using Keyword Research Tools – Like keyword research tools you would use for your blog, a basic YouTube research tool will tell you the search volume, impressions and cost per click for every keyword suggestion.
Keep Up With the Trends
Staying on trend boosts your relevance as well as your competition. To stay trendy while standing apart, add a spin to content.
Optimizing for Mobile
Most people now watch videos on mobile rather than desktop. Therefore, it is critical that your videos are optimized for mobile. While YouTube automatically optimizes videos for mobile, here are a few tips:
Keep content short
Add mobile-friendly calls-to-action
Make sure content is viewable between mobile and desktop screens
With these tips, you can gain more traffic to your videos and your website by making use of video SEO.