Reviewing CoSchedule: A Content Marketers Guide to Organizing your Blog and Social Shares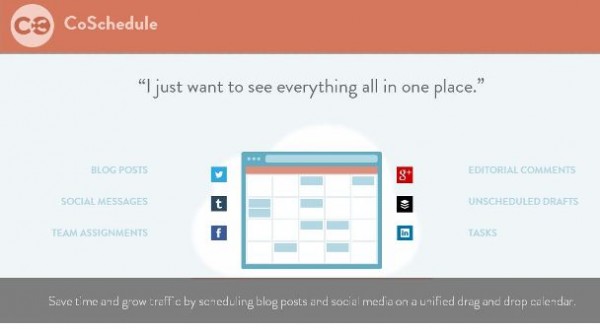 The challenge of increasing website traffic and growing online sales is very real for every business that is serious about having a online presence that performs and contributes well to the company's bottom line.  The key is that it needs ongoing attention and effort.  It is never a "set it up and then just let it run" type situation.  The nuances of the web change regularly.  What worked two years ago may be obsolete today.  Yet the potential, for those who dig in is a quite amazing. The web can help a business reach more of their ideal audience and help them sell more products.  The key is always to look for ways to be efficient in the processes needed to marketing online.
One key today is content marketing.  The process of creating ongoing content for your website, often via a blog, that helps to grow your audience and increase your rankings for key search terms in the major search engines like Google and Bing.  One of the challenges of content marketing is planning ahead and having a way to efficiently organize, plan, update, and deploy new blog posts, as well as then share those posts on social media networks in an engaging way. All this together creates a powerful force that can help your business be found and succeed.  So the goal, then, is to be efficient at the process. Often, marketing teams and owners are forced to use multiple tools to manage these processes and streamlining things is difficult.  Thanks to a online tool called CoSchedule, these problems can be a thing of the past!
What It Is
CoSchedule is an all-in-one content editing calendar that makes managing and scheduling your content a snap.  If you have ever tried to manage an editorial calendar, you know how time consuming switching between platforms to schedule posts can be.  Constantly switching between apps to manage social posts and schedules is inefficient as well, and can lead to costly errors.  CoSchedule streamlines the editorial calendaring process and reduces your likelihood of making mistakes.
CoSchedule is a WordPress plugin that gives you the ability to make changes to your editorial account in real time.  Because it was built specifically for WordPress blogs, it installs easily through the plugin section in the backend Admin area.  The plugin allows you to see your posts—both blog and social media posts—in an easy to understand and manage visual calendar format.
Once you have installed the plugin you can access it within the WordPress dashboard or through the CoSchedule web interface.  Then, after doing a one-time connect of all of your business social media profiles that you will be sharing your content with (including Twitter, Facebook, LinkedIn, Tumblr, Buffer, and Google+) you are ready to plan the roll-out of your new blog posts and the social sharing that will go along with each!
Using the Calendar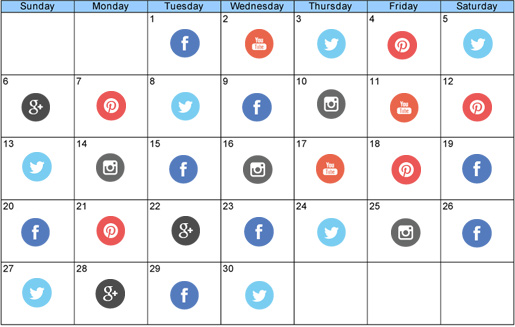 CoSchedule makes it easy to see your entire publishing calendar at once.  Blog posts and social media posts are displayed on the same page and the drag and drop functionality allows you to edit the schedule with a single mouse click.  This allows you to visualize your blog publishing schedule to identify any holes in your editorial calendar based on how much content you want to publish each week and the exact days that content will go live.
As noted, a great feature is the ability to create your social media posts while you enter your blog posts.  The social posts are customized within the calendar and can be scheduled to be posted to each of the social channels you specify on a specified date and time.
Another great feature is the ability to work with a team and manage the group's workflow.  The team leader has the ability to assign tasks to various team members and allows you to set reminders for critical tasks.  The program also contains a chat feature that allows team members to collaborate on big projects.
CoSchedule can really deliver on its promise of making your work life better!  From individual bloggers to small marketing departments, it makes your life easier by bringing multiple tools together in one great application.
The company offers a free 14 day trial and a simple $10 per month, per WordPress blog subscription service after that.  The subscription offers unlimited users, unlimited social accounts and free technical support. For those serious about content marketing and for those wanting efficiencies in managing the process, this WordPress blog tool is a good option!